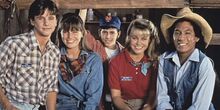 The main characters of the Hey Dude TV series are the ranch owner, his son, the female ranch hand, and four to six teenage summer employees.
The main characters of each season as well as the actors and actresses portraying them are indicated in the credits in the intro of each episode.
Overview
See also
Appearances of the characters in the individual episodes
External links
Ad blocker interference detected!
Wikia is a free-to-use site that makes money from advertising. We have a modified experience for viewers using ad blockers

Wikia is not accessible if you've made further modifications. Remove the custom ad blocker rule(s) and the page will load as expected.