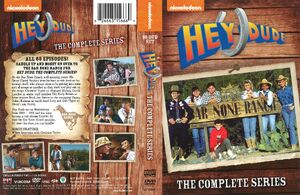 Only about twenty years after Hey Dude first aired on TV, the show has been released on DVD.
History
After the first three seasons of Hey Dude had already been made available to the public on iTunes from 2008 to 2011, Shout! Factory got a license by Nickelodeon for a release of the TV series on DVD. The first season was already released in 2011, season 2 and season 3 followed in 2012. In 2013, season 4 and season 5 were released as Shout! Select titles which were available for purchase only at the Shout! Factory's website. In the meantime, however, they can also be purchased elsewhere. Each of the seasons was published as a DVD box containing two DVDs. In 2015, all the 5 seasons were released on ten DVDs in a single box under the title Hey Dude - The Complete Series as a Walmart Exlusive edition.
All the DVDs are in the NTSC format and have the region code 1 (United States, Canada, Bermuda, Caribbean, U.S. territories). Up to now, they have not been made available for other regions.
Overview
External links