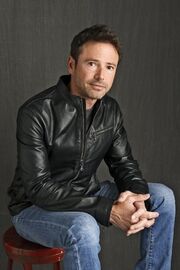 David Scott Lascher, mostly known as David Lascher, is an US American actor. In the Hey Dude TV series, he was a regular cast member and portrayed Ted McGriff.
Life
David Lascher was born on April 27, 1972, in Scarsdale, New York. His father was a lawyer, his mother a psychotherapist. David has three sisters.
Lascher attended Scarsdale High School. After appearing in a television advertisement for Burger King, he entered the showbiz.
On August 14, 1995, Lascher married Jessica Watson, but the two eventually divorced. Since 1999, he is married to Jill London. The couple has three children.
Carreer
David Laschers first appearance on TV was in the 1988 movie "Down Delaware Road" which was intended as a pilot film for a planned television series, but failed. In 1989, he joined the original cast of the "Hey Dude" TV series. He left the show during the 3rd season to film "A Family for Joe". When this TV series was cancelled after only 9 episodes, Lascher returned to "Hey Dude" in season 4. His temporary absence was explained by stating that Ted had been at a summer school.
Since then, he has starred in various TV series such as "Blossom" (1992-1994) and "Sabrina, the Teenage Witch" (1999-2002) as well as in TV movies and cine films, for example "White Squall" (1996).
Filmography (selection)
TV series: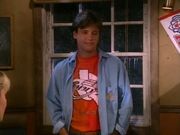 1989-1991: Hey Dude (as Ted McGriff, 45 episodes)
1990: A Family for Joe (as Nick Bankston, 9 episodes)
1991/92: Beverly Hills, 90210 (as Kyle Conners, 3 episodes)
1992-1994: Blossom ( as Vinnie Bonitardi, 48 episodes)
1996-1997: Clueless (as Josh, 17 episodes)
1999-2002: Sabrina, the Teenage Witch (as Josh, 48 episodes)
Movies: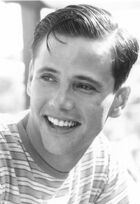 1988: Down Delaware Road (as Robbie Heller, TV Movie)
1991: She Says She's Innocent (as Ryan Larson, TV movie)
1993: The Flood: Who Will Save Our Children? (as Brad Jamison, TV movie)
1933: The Waiter (as Tommy's cousin)
1994 Cries Unheard: The Donna Yaklich Story (as Denny Yaklich at the age of 18, TV movie)
1996: White Squall (as Robert March)
1996: Twisted Desire (as Brad, TV movie)
1996: Kidz in the Wood (as Sloan, TV movie)
1997: A Call to Remember (as Jake Tobias, TV movie)
1998: Playing to Win: A Moment of Truth Movie (as Marshall Kearns, TV movie)
2002: Alikes (as James, TV movie)
2006: Mystery Woman: Redemption (as Tyler Dell, TV movie)
2009: Always and Forever (as Gabe Sanchez, TV movie)
2015: The Boat Builder (as Charles)
Images
→ See also David Lascher/Gallery#Images and Category:Images of David Lascher
Videos
→ See also David Lascher/Gallery#Videos
External links
Ad blocker interference detected!
Wikia is a free-to-use site that makes money from advertising. We have a modified experience for viewers using ad blockers

Wikia is not accessible if you've made further modifications. Remove the custom ad blocker rule(s) and the page will load as expected.