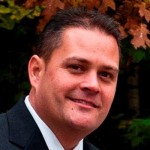 Geoffrey Coy is an US American actor. In the Hey Dude TV series, he was a regular cast member and portrayed Kyle Chandler.
Life and career
Geoffrey Coy was born in 1973 in Phoenix. He joined the cast of Hey Dude at the end of season 3 and remained for the rest of the series. However, he did not continue acting after the end of the TV series, but got a Bachelor's degree in Business Administration at the Baylor University in in Waco, Texas.
Among others, Geoffrey Coy spent eight years in various sales roles with GlaxoSmithKline and six years as a regional sales director with Sepracor. In 2013, Coy was nominated National Sales Director of Omniflight Helicopters, Inc.[1]
References
↑ Omniflight names new National Sales Director, helihub.com, June 4, 2013
External links
Ad blocker interference detected!
Wikia is a free-to-use site that makes money from advertising. We have a modified experience for viewers using ad blockers

Wikia is not accessible if you've made further modifications. Remove the custom ad blocker rule(s) and the page will load as expected.